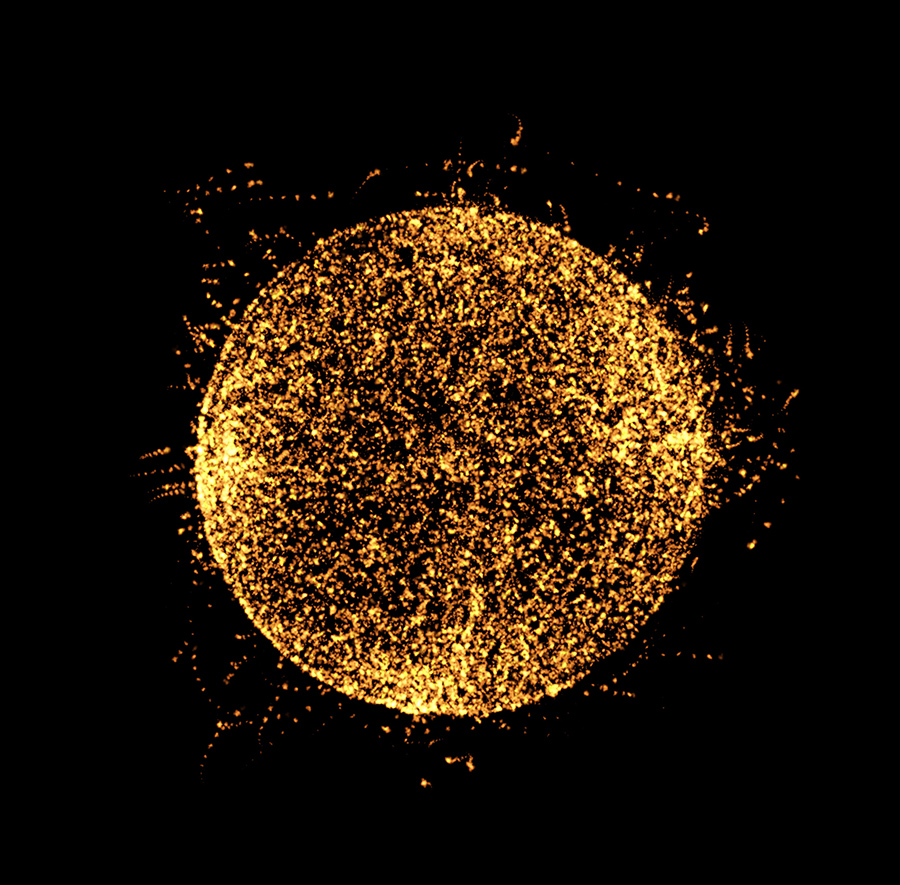 Nanoparticles are divisive: on the one hand, there are health risks that have not been sufficiently researched, on the other hand, nanoparticles seem to offer unforeseen opportunities because of their very specific physical characteristics.
The ILK Dresden has been researching different topics in order to understand the behavior of nanoparticles better as well as to get to know the possibilities of application to increase efficiency in heat transfer.
Today's guest is Dr.-Ing. habil. Matthias H. Buschmann. Mr. Buschmann studied fluid mechanics/thermodynamics at the TU Dresden and subsequently received a PhD. The subject of his PhD thesis were "turbulent wall boundary layers". Today, he is looking into fluid mechanics, heat transfer and material transfer at the ILK Dresden.
What exactly are nanoparticles?
"As their name already suggests, nanoparticles are very, very small. We are talking a millionth of a millimeter. This sounds extremely small at first, but when we look at water molecules, which are 0.3 nanometers in diameter, the particles that we are dealing with at the ILK are relatively big, since they are 100 nanometers. There are different ways to produce these particles. They are primarily metals or oxides, such as silicon oxide, or metals as we come across them in everyday life like copper, aluminum or gold."
What was your motivation to look into this topic?
"We are not dealing with the production of the particles, but we purchase them. Primarily important for us are the suspensions, where nanoparticles are dispersed in water, refrigerants, heat exchanger oil or other carrier fluids. What we want to figure out is whether it is possible to replace the heat exchanger, which is usually water, in conventional heat exchanger systems by nanofluids, which have better thermodynamic, thermophysical substance properties. Our goal is to improve heat exchange by improving the properties of the original heat carrier by adding these particles."
Which scientific challenges are we facing?
"One specific challenge is that the processes work on scales that we cannot solve experimentally, i.e. time and length. We cannot solve heat transfer processes experimentally in a nanometer or micrometer range. We always have to think in time frames and dimensions, which apply to mechanical engineering. Afterwards, we have to check whether the effects become visible in our experiments, even if they originally function on much smaller scales."
What threats are humans and the environment facing?
"First of all, it is important to say that our nanoparticles are always inside of suspensions. This cannot be compared to when nanoparticles are in the air, where they cannot be controlled as much as they can in our experiments. But of course, you are right: there are certain challenges when it comes to working with nanoparticles. They are so small that they are able to cross every barrier inside the human body. They can cross the blood-brain-barrier and they can cause damage everywhere inside the body when they enter it. However, we have developed technologies – here, I am talking about our chemical labs – to be able to handle nanofluids technically correct and carefully in order to avoid the problems mentioned. Even more, there is a European network (supported by COST), with which we have developed a business plan for the application of nanofluids in European industries. It offers answers to questions such as: "How do I handle nanofluids safely?" and "How can I dispose of nanofluids correctly?". There are studies – one was published this year by one of our Portuguese groups – that present detailed lists of where in the EU we still need to phrase regulation requirements, and what the legislative body needs to provide."
Where do you see nanoparticles in five to ten years?
"The business plan, which we have developed in a European project, describes two business areas in quite some detail. The first one is the PRODUCTION of nanofluids with thermodynamic characteristics and the second one is the APPLICATION and USE in companies, which develop, sell and maintain heat transfer systems. I am certain that these two areas are essential and that we will see within the next five years whether companies, e.g. start-ups, will jump on the bandwagon and produce thermodynamic nanofluids at a low cost, and whether by that applications will become possible on a much bigger scale."
You can contact Dr.-Ing. habil. Matthias H. Buschmann at +49 (0)351- 4081 5311 or via email: matthias.buschmann@ilkdresden.de