Performance tests of refrigerant compressors

Industry
Dr.-Ing. Matthias Böhm
+49-351-4081-643
Does your compressor perform well?
The Test center PWLP supports the industry in the development of environmentally friendly, energy-efficient vapor-compression refrigeration system and compression heat pumps. In practice, the F-Gas Regulation EU 517/2014 means the increased use of flammable refrigerants (KM) of classes A2 and A3.
The ILK Dresden offers the following services for you:
Investigation of compressor parameters
For a defined application map of open, semi-hermetic or hermetic respectively one or two stage refrigerant compressors we determine the refrigerating capacity, power absorbed, COP, volumetric and isentropic efficiency.
For a defined application map, we determine according to the standards
DIN EN 13771-1 and DIN EN 12900 the
Cooling capacity, drive power, COP, delivery and quality level
Now also for flammable refrigerants like propane!
We determine the parameters for
one- or two-stage (with integrated ECONOMISER),
semi-hermetic or
hermetic compressors
types: reciprocating or rolling piston, scroll compressors
The ASEREP property library from ASERCOM is the source of the refrigerant property values
| | | |
| --- | --- | --- |
| Displacement [m³/h] | Refrigerating capacity [kW] | Refrigerants |
| 50..200 | ...200 | A1: R134a, R1234yf, R404A, R407A, R407C, R407F, R448A, R513A, R152a, R452A, etc. |
| 3...30 | ...25 | A2L/A2: R452B, R32, R1234yf, R1234ze |
| 3...30 | ...25 | A3: R290 (Propane) |
Current calibrations of the measuring systems are a matter of course.
Within the scope of our flexible accreditation, further measuring tasks can be realized according to applicable test standards.
Compressor service life study
We test the thermal / mechanical long-term behavior and the interaction between compressor, refrigerant (A1, A2 / L and A3) and oil
in the LifeTimeTest LTT500
according to the individual requirement of the customer or
according to our ILK standard procedure over approx. 500 h:


with defined variable loads in the compressors operating map (stress level 1… 6)
when the permissible operating parameters are exceeded (on / off cycles, reduced overheating, oscillation, liquid) and with analysis of the development over time of the compressor parameters at the reference point (according to DIN EN 13771-1).
Examination of the compressor and oil condition
We check in a condition analysis of the compressor
possible damage from field use or after completing a LifeTimeTest LTT500
based on macroscopic mechanical wear characteristics, electrical properties of the electric motor and oil condition
optionally with technical evaluation of the compressor according to Guideline VDI 2225 (objectification of characteristics without directly measurable comparison parameters).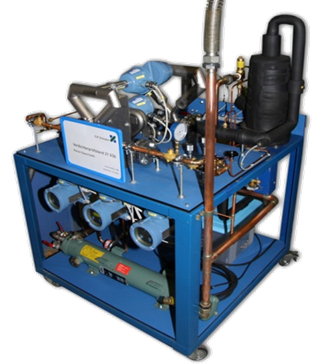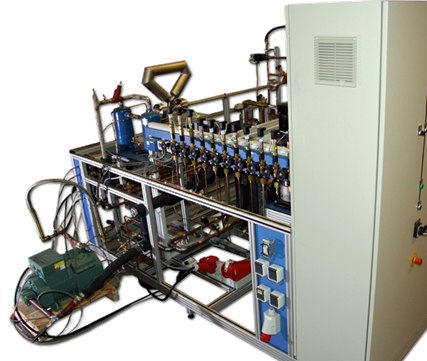 Research and Development
The ILK Dresden has been active in the development and testing of refrigeration and heat pump technology for many years. The development work is carried out individually and in close cooperation with the client.
The ILK Dresden has many years of know-how in the investigation of refrigerant compressors. The necessary know-how for the evaluation of the machines was developed in particular in the funded projects:
"Energy efficiency of refrigerant compressors", (BMWi EN FKZ IW073034),
"Multi intermediate injection at rotary compressors", (BMWi EN FKZ VF120022)
"Test rigs and test procedures for condensing units" (BMWi EN FKZ MF150072),
"compressor protection procedure" (BMWi EN FKZ MF150165).
In these projects, knowledge was gained in particular on the following topics, which enable a professional interpretation of the results:
Constructional design of different compressor designs
Gradients for degree of quality and degree of output as function of compressor design and compressor map
Procedures for performance measurement with reduced uncertainty at different compressor designs
Knowledge about the behavior of refrigerating capacity, power absorbed and COP depending on compressor design and operating conditions
Relationships between external and internal conditions of the compaction process and effects on the definition of comparative parameters
Procedures for determination of the circulating oil concentration in the refrigerant mass flow
---